Birmingham Christmas Shelter
This shelter provides people who are currently experiencing homelessness and adults who would otherwise be alone at Christmas, with a free warm, safe place to eat, shower, sleep and enjoy Christmas. If you would like to come and share Christmas with us, you do not need a referral and can just turn up any time of the day or night while we are open, and you may also bring your dogs if you wish.
From Friday the 24th – 28th December, Located at: St George's Hub, Great Hampton Row, Newtown, Birmingham, B19 3JG.
More information can be found at:  Shelter Week – Birmingham Christmas Shelter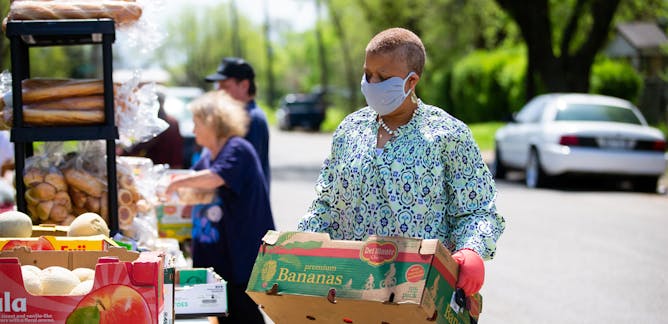 Handsworth Seventh Day Adventist Church – Food bank open every Sunday from 12pm – 2pm at 98 Hutton Road, B20 3RD
Community – Handsworth SDA Church
Mosque -UKIM Handsworth & Islamic Centre – Food Bank open every FIRST Sunday of the month. From 2pm – 4pm at Putney Road Masjid, 27-37 Putney Road, B20 3PP
Mosque – As-Suffa Institute – 156 High Street, Aston B6 4UX – Provide free food parcels delivered to the home – Referral will need to be made through registered agencies. Birchfield Big Local are a registered agency. Please contact Mehnaz Afzal at 07421994753 to make a referral.
Find Food Banks Brum – This organisation has a directory of Food Banks and other services including Finance & Advice, Clothing and Furnishings. Visit Find FoodBanks Brum | Find Food Banks in the West Midlands and Black Country for more information.
Incredible Surplus (Real Junk Food Project) – Food and other essentials can be collected on a pay-as-you-feel basis from the Incredible Surplus – formerly the Real Junk Food Project, Western Business Park, Great Western Close, B18 4QF on Thursday from 10:00am – 1:00pm and Saturdays from 10:00am to 1:00pm.
The Thomas Bromwich Charity and Handsworth Charity – Both offer small grants to help individuals and families meet urgent needs. Applicants usually need to be supported by a sponsor – an individual or an organisation that can confirm the applicant's situation in their relevant area. Birchfield Big Local can act as a sponsor.
The Thomas Bromwich Charity – Turn2Us
The Thomas Bromwich Charity – Vicarage, Church Road, Perry Barr, Birmingham B42 2LB.- Provides one off grants to those who find themselves in need or are struggling financially and live in Perry Barr, Great Barr and Handsworth. Email: admin@st-johns-perry-barr.org.uk. Include full post code in your request.
The Handsworth Charity – 109 Court Oak Road, Birmingham, B17 9AA. Small grants are given to those in need living in postcodes: B19, B20, B21, B42, B43, B44. Grants no more that £500 may be made to help with essential
household items such as bedding, carpets, cookers, fridges and small property repairs. Email: info@handsworth-charity.co.uk
Local Welfare Provision (LWP) – Birmingham's Local welfare provision scheme helps people in short-term crisis with food and essential items. People who receive help will not have to repay anything. It is not intended to replace the council's statutory duties. Two types of payment are made:
Crisis Payments to meet urgent needs such as essential food and/or clothing.
Community Support Grants to meet immediate needs for essential furniture or white goods to sustain
housing needs and gain greater independence within the community.
You can either apply yourself or someone else can apply for you. You can apply online here: Making a claim for short-term help | Help in a short-term crisis | Birmingham City Council
Turn2Us –  This charity helps people in financial need gain access to welfare benefits, charitable grants and other financial help. This can be done online, by phone and face to face through partner organisations. The website includes an easy-to-use Benefits Calculator and Grants Search tools to check what benefits you may be able to claim and what grants you may be able to apply for. Visit Fighting UK Poverty – Turn2us for more information.
Spurgeons Children's Charity 
Spurgeons Children's Charity provides support to families with children aged 0-5 as part of the Birmingham Forward Steps Partnership. Our Birmingham Children's Center Services offer parents and carers: Information, advice and support | Advice on how to access childcare provided by nurseries or childminders | Family support services | Access to children health services, including midwives and health visitors | Support for children with special needs, including sensory rooms | Links with Jobcentre Plus, local training providers, further and higher education institutions | Messy play, rhyme time sessions and play sessions.
Perry Barr District: The Perry Barr Children's Center team support families living in Aston, Birchfield, Handsworth, Handsworth Wood, Holyhead, Kingstanding, Lozells Oscott and Perry Barr areas of Birmingham.
Lime Tree Children's Centre: Heathfield Road, Birmingham B19 1HJ. Telephone:
0121 752 1900
Rookery Children's Centre: Rookery Sports & Arts Centre, Birmingham B21 9PW. Telephone: 0121 752 1900
More information to be found at Birmingham Children's Centre Services – Spurgeons
Mental Health &

Wellbeing Support
Birmingham Mind – Mind help people access support from specialist providers. Telephone: 0121 262 3555. Email: help@birminghammind.org
The Lateef Project – The Lateef Project provides free multilingual Islamic Counselling to the community. This service is available to anyone needing therapeutic counselling support for their mental health and to help those cope with the impact of Covid-19 and bereavement. Email: info.lateefproject.org – 07308 510555
Nenah Kumar is an artist who focuses on creating videos that promote calmness and relaxation. Her videos are seen as Visual Meditation and are aimed at those suffering with Mental Health disorders. You can view these videos via the following link: Visual Art for aiding Mental Health – Birchfield Big Local
Birmingham Settlement – Free debt and benefit advice by phone, email and web chat. Includes advice on Benefit entitlement; Universal Credit, Council Tax; Rent and mortgage arrears; Utilities advice – (gas, electric and water). Call 0121 250 0765, Email: money.advice@bsettlement.org.uk. For general advice phone: 0121 250 0777